August 30, 2012
My husband grew up working on the farm and in my large family, we always had a garden that needed tending.  In the era of computers, our kids are sometimes missing out on the lessons of hard work that were so valuable in our childhoods.
So, instead of doing most of the garden work myself this year, I tried even harder (than previous years) to enlist the kids.
My 4-year-old was excited at the beginning of the year to plant the "potatoes".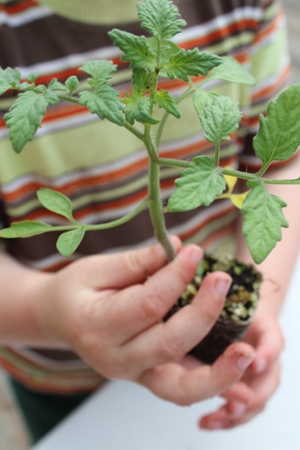 He planted two in the buckets on the back deck and has since been very excited to pick and eat HIS own ripe tomatoes.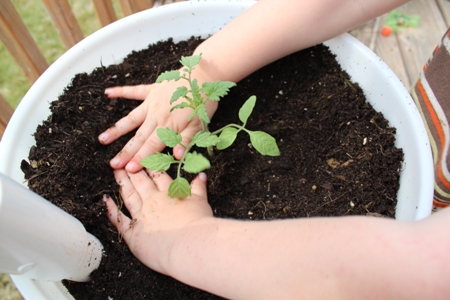 After the buckets, he was happy to help plant the others around the house and garden, but his favorite was wielding the big water "sword".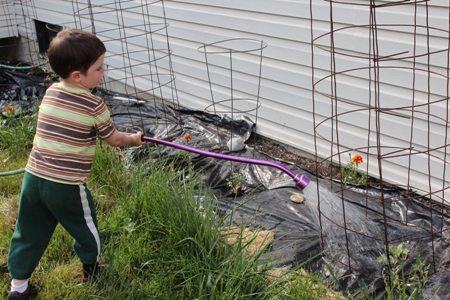 When a friend invited us to come pick the rest of his green bean patch, we loaded up the buckets and the kids.
My husband and I had to laugh when 6 minutes in to the picking the first kid asked how long this was going to take, and were we almost done.
Instead we:
spent over an hour picking
sat and watched some TV while we snapped them for another hour or two
dumped them in boiling water for a few minutes followed by ice water (blanching to stop the ripening)
then all the kids helped spread them on dehydrator trays and a few went into the freezer.
The result: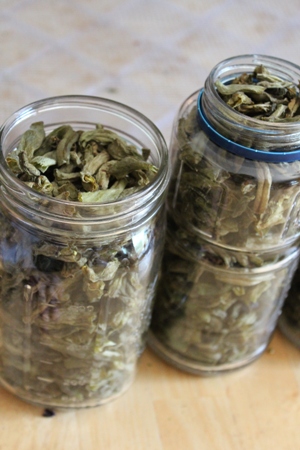 Dehydrated green beans that came out light and crispy and made a great dry snack.  We'll make sure to add a little salt next time before dehydrating.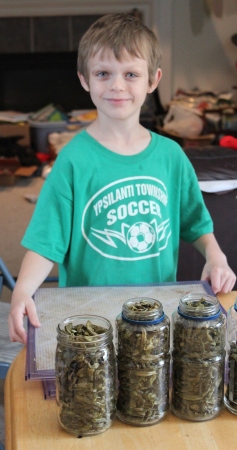 Even better, since the kids were involved in all the work from start to finish, everyone was happy to munch on the veggie snack instead of turning their noses up at the idea.
We've also picked, washed, and stripped elderberries from our bushes and dehydrated them for future anti-viral winter teas: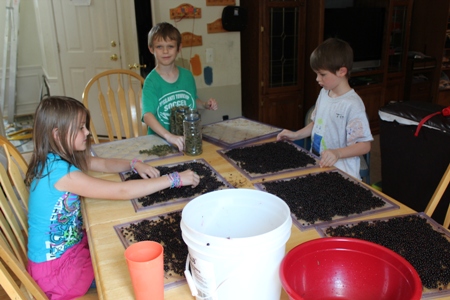 Any uneaten tomatoes are being dehydrated to go in future chili, spaghetti sauce, and sun-dried tomato recipes.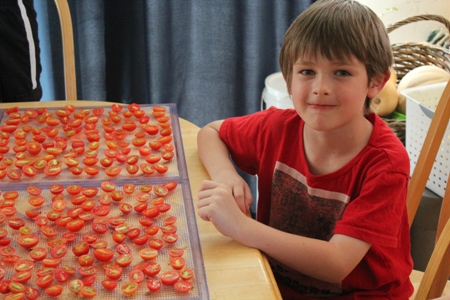 Just a few weeks ago, we spent three hours on a Saturday weeding, pulling up all the old peas and greens that had gone to seed, and planting new ones for a nice fall crop.
Just a few of the results of our 'hard work' lessons this year:
There's plenty of time to have great discussions while weeding – everything from biomes, plant cycles, to someone's latest Minecraft creation.  Fellow workers are a captive audience.
There's some satisfaction in eating something you grew right from the beginning.
Kids are more likely to eat veggies they grew and less likely to waste them.
You feel a bit closer to your siblings after working together on a tough job.
You have a greater sense of appreciation for how much work Mom does on a regular basis. 🙂
Overall, we've had a great gardening unit study so far this year, and it's not even over.
�
�
Posted under Homeschool Life