October 14, 2008
If you're looking for a great series to help your beginning reader gain confidence and skill one word at a time, this is a great one: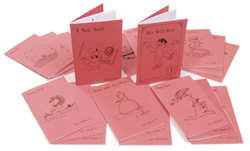 I learned to read from these little readers back in the 70's before I went to Kindergarten.  I remember how excited I was to finish the last book in the stack of over fifty readers, and how disdainful I was when I went to kindergarten and the teacher began introducing a letter a week to us 🙂 
In my opinion, this is one of the best first reader series. 
What I like:
Progressive addition of words – The first book has only three words: "I", "See", and "Sam".  Each book builds on this reading vocabulary by slowly introducing new words.  What's great about this compared to other early readers, is that there is never a word in the books that the child hasn't seen before or learned to read.  For example, another phonics book may use lots of words ending in "-at", but they'll throw in random larger words the child can't read, like "The fat cat ran after the rat."  The young reader may stumble over "after" and not be able to read the book 'all by himself/herself'.
With the "I See Sam" series, your child can read every word in each book.  It is a great confidence builder and sequential learning process.
Funny and engaging stories – It's amazing to me, but somehow these books can tell a funny story only using four or five words and line drawings.  Each of my kids have favorites.  "Remember how the bull knocked over Sam the lion because he dressed up like a king and had a cape on?"  or "When Sis the Snake wanted Mit's apple, so he tricked her into a hollow log and tied her in a knot so she couldn't get it, but he shared with her in the end." 
Each book has reading aids and confidence builders in addition to the story including: a pronunciation guide, sound practice, word practice, new word list, and coming attractions to introduce upcoming words.
Comprehension questions in small print at the bottom of many pages for added skill practice.
See a sample 'Little Book' here.
What I don't like:
The cost:  Each set of 27 'Little Books' is $30.  This seems a bit pricey to me, but our set has been through three kids now, so that spreads the cost out quite a bit.  In my opinion the first two sets are the crucial ones.  After completing the second set, my kids have developed the reading skills to move on to the more typical early readers available in most libraries at no cost.
The books are paperback with cardstock covers, not glossy, and need more care to last through multiple uses by little hands.
The line drawings look much like coloring books and are quickly used as such by crayons in those same little hands 🙂
Other posts in this series:
Do you have a favorite first reader book or series?  Please share with us in the comment section.  Thanks!


Posted under Reading Curriculum