November 6, 2012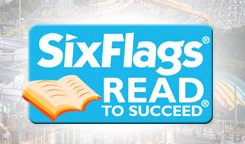 We just registered for a great program offered by Six Flags to children in grades K through 6:  A free amusement park ticket for reading!
How to get your free tickets:
Head over and register for free on the Six Flags Read to Succeed website.
Print out a reading log for each child.
Read, read, and read some more until each child has finished 6 hours of reading.
Fill out reading log and mail it in.
Record reading times online.
Receive the free tickets via email.
Deadline to register is Mar. 1st, 2013.
And even better, they have a specific sign-up page for homeschoolers, so you don't have to figure out how to fit into the traditional school sign-up page.
Enjoy!
Posted under Field Trips